Center for Advanced Liver Diseases and Transplantation
Meet the Team
The liver transplant and hepatobiliary diseases program at University Hospital is organized with a team approach designed to give comprehensive, individualized care to patients with complex diseases. The team consists of a designated group of physicians, physician assistants, nurse coordinators, social workers, financial coordinators, and nutritionists. Physicians include hepatologists (liver disease specialists), transplant surgeons, a psychiatrist with expertise in transplant issues, and other specialists as the need arises. Nurse coordinators play an important role as the daily, direct and personal liaison between the transplant team and the patient.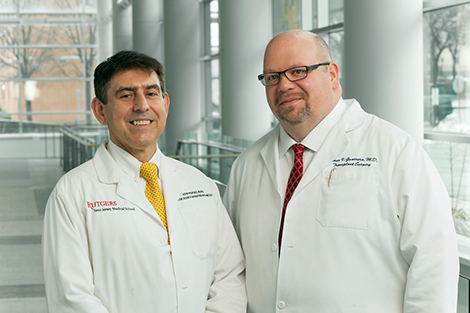 (l-r) Nikolaos Pyrsopoulos, MD, PhD, MBA; James V. Guarrera, MD, FACS
Program Leadership
James V. Guarrera, MD, FACS, Program Director Liver Transplantation
Dr. James Guarrera is Professor of Surgery and Chief of Liver Transplant and Hepatobiliary Surgery. Dr. Guarrera, is an experienced and innovative surgeon and researcher who pioneered new developments in transplantation including use of Machine Perfusion for Liver Preservation. He has been federally funded and holds 7 patents for his novel research. He has over 100 publications and book chapters and has won prestigious "Rising Star" awards from both the American Society of Transplant Surgeons and the International Liver Transplantation Society. He comes to University Hospital from the Columbia University Irving Medical Center in New York City where he served as Surgical Director of Adult Liver Transplantation Program for over a decade. Credentials
Nikolaos Pyrsopoulos, MD, PhD, MBA, FACP, AGAF, FAASLD, FRCP, Medical Director Liver Transplantation
Dr. Nikolaos Pyrsopoulos currently serves as Professor of medicine and Chief of Gastroenterology & Hepatology at New Jersey Medical School and the Medical Director of Liver Transplantation for University Hospital.
He completed his medical degrees (MD and PhD) at the University of Athens in Greece, followed by residency and fellowships at Sismanogleio General Hospital in Athens and the University Of Miami School Of Medicine. Dr. Pyrsopoulos is board certified in the areas of Internal Medicine, Gastroenterology and Transplant Hepatology. He received his M.B.A. from the University Of Miami School Of Business.
Dr. Pyrsopoulos is a Fellow of The American College of Physicians, American Gastroenterological Association, and the American Association of the Study of Liver Diseases. He is also a member of various medical associations such the European Association of the Study of the Liver, the American Society of Gastrointestinal Endoscopy and the American Society of Transplantation, among others. He has served in numerous national and institutional committees. In addition, he served as the Region 2 Review Board Chair for UNOS. Credentials
Transplant/Hepatobiliary Surgeons
James V. Guarrera, MD, FACS, Program Director Liver Transplantation (See above)
Dorian Wilson, MD
Dr. Dorian Wilson, Professor of Surgery, is a graduate of the New Jersey Medical School and completed his fellowship at the University of Pittsburgh. An active member of the NJ Organ and Tissue Sharing Network, Dr. Wilson is an accomplished surgeon in both transplantation and trauma surgery. He serves as associate program director for the General Surgery Residency and is the Director of the Healthcare Foundation Center for Humanism and Medicine at New Jersey Medical School. Credentials
Lloyd Brown, MD
Dr. Lloyd Brown, Assistant Professor of Surgery, graduated from the University of Rochester and continued at the University of Rochester School of Medicine for his medical degree. He did a residency in general surgery at Ohio State University's department of surgery and completed a transplant fellowship in Detroit. Dr Brown is also active in Clinical and Translational Research and the Global Surgery program. Credentials
Elisabete DaSilva, Physician's Assistant
Sohail Contractor, MD, Chief Interventional Radiology
Dr. Sohail Contractor, earned his medical degree at Grant Medical College in India and did a residency in internal medicine at Coney Island Hospital in New York. He completed a fellowship in vascular interventional radiology at New York University School of Medicine. Credentials
Flavio Paterno, MD, MPH, FACS
Flavio Paterno, MD, MPH, FACS is an Associate Professor of Surgery in the Division of Liver Transplantation and Hepatobiliary Surgery at Rutgers, New Jersey Medical School. He completed his general surgery residency at Yale University (New Haven, CT), and his transplant surgery fellowship at Baylor University Medical Center (Dallas, TX). Credentials

Transplant Hepatologists
Nikolaos Pyrsopoulos, MD, PhD, MBA, FACP, AGAF, FAASLD, FRCP
Medical Director Liver Transplantation (See above)
Steven Krawitz, MD
Assistant Professor, Department of Medicine.
Dr. Steven Krawitz, Assistant Professor of Medicine, attended college at Johns Hopkins University where he graduated with honors. Thereafter, he graduated from Sidney Kimmel Medical College, Thomas Jefferson University in Philadelphia, PA. He went on to complete internal medicine training at Thomas Jefferson University Hospital. Dr. Krawitz completed dual fellowship training in Gastroenterology and Advanced/Transplant Hepatology at Thomas Jefferson University Hospital. Dr. Krawitz is an accomplished author and academician and participates in numerous clinical trials. He is dual board certified in Internal Medicine and Gastroenterology. He currently serves as Assistant Program Director of the Rutgers, New Jersey Medical School Gastroenterology Fellowship. Credentials
Vivek Lingiah M.D.
Assistant Professor, Department of Medicine. Credentials
Mumtaz Niazi, MD
Assistant Professor, Department of Medicine. Credentials
Raquel Olivo-Salcedo, MD
Assistant Professor, Department of Medicine.
Dr. Olivo obtained her medical degree at INTEC in Dominican Republic with Magna Cum Laude honors. She completed her Internal Medical Residency and served as Chief Medical Resident at Saint Barnabas Hospital in New York where she practiced as an attending physician of Internal Medicine in addition to serving as a Medical Instructor at College University of NY (CUNY) Sophie Davis School of Medicine.  She subsequently completed her Hepatology Fellowship at Rutgers New Jersey Medical School.  Dr. Olivo is an Assistant Professor of Hepatology at Rutgers New Jersey Medical School and an attending physician of Hepatology at University Hospital. Her interests include disparities in access to health care and NASH. Dr. Olivo is fluent in Spanish. Credentials
Sushil K. Ahlawat M.D.
Director, Endoscopy, Division of Gastroenterology/Hepatology. Credentials
Patient Navigators
The patient's initial contact with the center will be with a patient navigator. They will arrange initial appointments with the team, and obtain records from the referring physician office. The navigators work side by side with the coordinator to assist the patient during the evaluation period.
Contact Patient Navigators that are ready to assist you.

Patients whose last name begin with A-L

Patient whose last name begin with M-Z

Connie Munoz
Direct - 973-972-8059
Fax- 973-972-2605


Maria DeAlmeida
Direct - 973-972-9460
Fax- 973-972-1375

Juliesnette Vargas, Certified Medical Assistant
Lucy Palacio, Ambulatory Care Tech
Mevlija Abazi Ambulatory Care Tech
Anjaya West  Ambulatory Care Tech
Juliesnette Vargas, Waitlist Patient Navigator
Transplant Nurse Coordinators
Upon the first visit, the patient will meet with a transplant coordinator—a Registered Nurse with special training in transplantation. The Transplant Coordinator schedules all tests and activities from pre-evaluation to follow up care. This individual will be the patient's main partner through the transplantation process, explaining every step along the way.
Pre-Transplant Nurse Coordinators
Maria Elena Montero, RN, BSN
Tracey Terrana, RN, BSN
Jennifer Zuber, RN, BSN

Post -Transplant Nurse Coordinators
Esther Aligmayo, RN, BSN
Chester Guss, RN, BSN
Social Worker
The Social Worker meets with patients to evaluate their social support system, coping ability, and  past psychosocial history. The patient will need to identify a primary care partner, or someone to support them before and after transplant. The Social Worker also can refer you to community agencies that can address the changes and difficulties the patient and their family may experience. Assistance could include referrals to community transportation, or financial grant applications. Connecting the patient with others who have experienced transplantation firsthand is another aspect of this role. One resource is the Positive Living Liver Support Group, which meets monthly.
Jennifer Cashin, LCSW
Preethi Kumar, LCSW
Mimi Toney, LCSW

Financial Coordinator
The Financial Coordinators meet with the patient and family members to discuss specific information regarding the costs of transplantation, including insurance and prescription coverage as well as any out-of-pocket expenses. The coordinator will go over any financial issues related to medical care, both before and after the transplant, as well as identify options and create a plan that works best for the patient and family. For patients with inadequate health insurance, the financial coordinator will advise and refer the patient to an appropriate agency for eligibility. It is essential the patient communicate any changes in insurance to your coordinator
Jessica Cham, MPA, BSBA
Felma Izar, BSBA
Chukwuka Ndukwe, B.A.
Pharmacist
The pharmacist will review the patient's current medications and make suggestions to the MD. Then for post-transplant care, you will require a daily program of immunosuppressive drug therapy. The pharmacist is an authority on these medications, and can answer questions about the doctor's instructions for taking them. The patient should never change the dosage schedule unless specifically told to do so by the doctor or transplant coordinator.
Srijana Jonchhe
Merlin Punnoose, Pharm D. BCPS
Danielle Pellecchia, CPHT
Registered Dietitian
A Registered Dietitian will review the dietary habits with the patient and family as well as help the patient develop and maintain an appropriate diet before and after the transplant. If the patient is overweight or underweight, our transplant dietitian will counsel the patient regarding healthy habits to improve nutritional status. The dietitian can also provide recipes and helpful hints to reduce health risks.
Marilyn Osit, RD, CNSC
Quality Coordinator
Sandra Lao, RN, MSN
Administration
Latonia Baldwin, Medical Office Assistant
Joel Lindower
Melissa Rosado
Kathleen Ruping, BSN, RN, CCTC
Paul Volek
Renee Wooten, Staff Assistant

Data Analysis
Geoffrey Koizumi