Meet The Staff
Dr. Suzanne Atkin

Born and raised in New Jersey, Suzanne Atkin, MD, FACEP, graduated from Cornell University, the College of Arts and Sciences, where she received her BA in Biology and then attended New Jersey Medical School in Newark, where she received both her MD degree and completed her residency training in Internal Medicine.
She chose to remain at NJMS as a faculty member in the Department of Medicine, teaching medical students and internal medicine residents and practicing Emergency Medicine and Internal Medicine at University Hospital, Newark. She became the Associate Director of the ED in University Hospital in 1992 and has held a variety of administrative and academic positions, both at UH and NJMS. She was honored by her colleagues in 1999 when she was elected the first woman President of the UH Medical Staff and has been Chief Medical Officer of UH and Associate Dean for Clinical Affairs at NJMS since 2005. She continues to teach medical students and internal medicine residents and sees patients regularly in the UH outpatient practice.
As Chief Medical Officer, Dr. Atkin is responsible for hospital management/medical staff relations in carrying out the mission of UH. She advises the President and CEO and the governing Board on matters related to medical/administrative affairs, patient medical care and safety, and medical staff relations. She also serves as administrative advisor for the Medical Staff Office, Quality Programs, Physicians Assistants Services, all employed and voluntary physicians, medical staff leaders and various other departments.
Dr. Christine Gerula
Medical Director for ACLS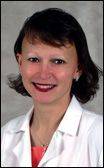 Dr. Gerula graduated from the UMDNJ Medical School in 1996 and is the Assistant Professor of Medicine, Division of Cardiology. Dr. Gerula completed her residency and fellowship at NJMS and is board certified in Cardiology and internal medicine. She joined the CTC recently as the ACLS Medical Director and brings many years of experience to her role. She will be actively involved in providing her expertise in the Advanced Cardiac Care courses for the CTC.
Dennis Boos
Administrative Director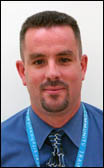 Dennis has been employed at The University Hospital for over 19 years beginning his career in Emergency Medical Services and currently serves as Administrative Director and Training Center Coordinator for the Community Training Center. As the Training Center Coordinator Dennis is responsible for ensuring we continue to maintain the highest level of courses available in the region, recruitment, customer satisfaction, and administrative duties. Please email Dennis at boosde@uhnj.org. For urgent matters call 973-487-8771.
Joseph S. Dyl
ACLS & PALS Coordinator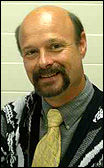 Joe has a Bachelor of Science degree from George Williams College and is an Adjunct Instructor for Essex County College. Joe has been employed at The University Hospital for 24 years begining his career in Emergency Medical Services and currently serves as the ACLS and PALS Coordinator for the Community Training Center. As ACLS and PALS coordinator, Joe oversees the administrative and logistical aspects of both programs. He is available via email at dyljs@uhnj.org
Bryan Hoffmann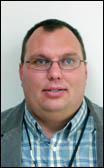 Bryan began his career at UMDNJ in 1999 as an EMT for UH-EMS. In 2007 he moved over to this office and began organizing/facilitating the various BLS programs we offer. Bryan also is very active in EMS Education and holds an instructorship as an EMT-B Instructor. Bryan has a Bachelor's Degree from Kean University. Bryan has been credited with being a subject matter expert and has help write a healthcare textbook for another training organization. He is available via email at hoffmabr@uhnj.org